Equipment Company Profile
Superpop has become Australia's leading supplier of concessions equipment because we are not one dimensional. We select the best equipment from suppliers around the world & bring them to you. We understand that different people have different needs & varying budgets.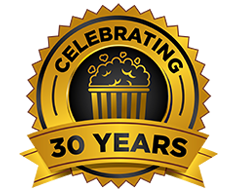 We are an authorised Gold Medal Products dealer from the USA having won the prestigious Golden Eagle Award in 2009 plus many other Awards. We also sell Cretors equipment from the USA which means that everybody in Australia has access to their cinema & industrial range of concessions equipment.
Our customers range from the multinational cinema companies to the suburban family that wants to upgrade their home cinema. We also cater to the vast group of Aussie businessmen & women who make peoples' lives a joy at fetes & family days.
We are a one stop shop for all your concessions equipment and supplies.
Conveniently located warehouses
Our warehouses are conveniently located in Melbourne (HO), Sydney, Brisbane, Perth & Auckland. We believe that it is important for customers to be able to see equipment prior to purchase so we're never too far away. However if you reside out of these areas we can freight goods to you via our network of established transport companies. If you're location is unknown to us then we will ask you for advice re the best way to deliver.
Large range of equipment in stock
If you call our competitors always ask whether the equipment is in stock. At Superpop we go out of our way to make sure that we have equipment sitting on the floor that you can purchase it immediately.
We always have a large range of popcorn, fairy floss and sno cone equipment in stock. We also have the best range of ingredients necessary to get you started immediately.
Spare Parts
Even regularly serviced equipment will require attention at some stage so you must always insist on purchasing from a supplier that has lots of spare parts & expertly trained servicemen. We have servicemen in Melbourne, Sydney & Brisbane waiting for your call. And if you live outside these areas they will travel or offer advice to your own service people.
Clearly we are a one stop shop for all your concessions requirements.